Flight Instructor Re-validation Clinic
Register for Our Next FIRC!
Renew your membership or join today and register for our next FIRC!
Choosing one of these buttons, will direct you to the MEMBERSHIP web-page.  Enter the required fields, scroll down to enter any changes, then select 1 of 3 options, and credit card information. and complete via SUBMIT button.
Registration fees include your GSLFIA membership dues
Next FIRC
January 13-14, 2024
About
The GSLFIA Flight Instructor Refresher Clinic is truly one-of-a-kind as it is presented by active aviation professionals in a guided-discussion format. Why sit behind a computer all alone trying to complete an on-line or out of the box FIRC with no human interaction? The GSLFIA allows you to interact directly with the presenters, ask questions and help guide the discussion to get the most out of the information.
The GSLFIA FIRC follows a recently issued Advisory Circular that is focused on timely issues of interest to all professional flight instructors including TSA rules, Pilot Deviations, Recent Regulation and Policy changes, building a safety culture and information and advice for those returning to flight instruction.
FIRC Philosophy
Each Module in the GSLFIA FIRC is designed as an instructor-led group discussion, incorporating individual scenarios governed by a general scenario. Lead presenters will ensure the key topics of each module are covered sufficiently, but also encourage attendees to be an active part of the presentation, lending their knowledge and expertise to the subject at hand. Instead of taking notes and passing a test, attendees of the GSLFIA FIRC will go back to their students and clients with a deeper knowledge and appreciation of their responsibilities as professionals: not just feeling they've simply fulfilled the minimum requirements to maintain their certificate for another two years.
FIRC Scenario
The general scenario is based on an individual who decided to become a pilot and the Instructor's duties and responsibilities along the way.
Day One
Day One of the FIRC focuses on the primary training process starting on with issues related to initial consultation (paperwork considerations, TSA eligibility, etc.) then continues through primary training (scenario vs. task-based training, effective teaching and safety practices) and finishing up with a thorough discussion of dealing with Pilot Deviations and Security-Related Airspace.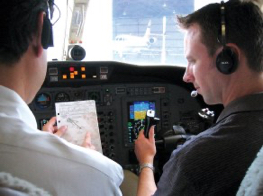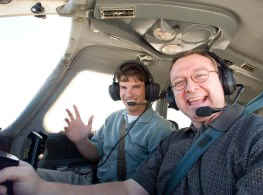 Day Two
Day Two picks up with issues regarding advanced students (GPS technology and Pilotage, new regulations and policy's, etc.), and maintaining currency throughout the life of a pilot. The focus of this second day of training is also on the instructor's obligation to maintain currency, proficiency and knowledge in their profession. The program ends with specific information for the instructor returning to the industry after an absence: what is the current instructional landscape like and how should the returning instructor prepare for teaching in the 21st Century.
Individual scenarios both from the presenters and from the attendees will be incorporated throughout the program. Special emphasis will be placed on and every opportunity will be taken to discuss in context the primary themes listed in AC 61-83G: Culture of Safety, ADM, Professionalism and Ethics. These themes will be an integral part of each discussion and serve as a connecting thread connecting each module.
Emphasis will also be placed on teaching methods and best practices, treating this FIRC not as simply as a knowledge review of facts and concepts all CFI's should already know, but rather as an opportunity for professional development and a chance to bring a higher level of respect and professionalism to our industry.